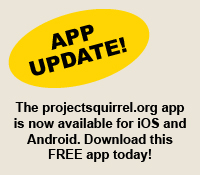 Please note: anything sent via mail will not be returned.

Project Squirrel
c/o Steve Sullivan
The Chicago Academy of Sciences
Peggy Notebaert Nature Museum
2430 North Cannon Drive
Chicago, IL 60614

Email:
sciurus at uic.edu
We recently learned that some of the emails being sent through the Project Squirrel website were being misdirected. The problem has been corrected. If you have not received a response to a previous email, please re-send it and we'll get back to you ASAP! Happy Squirreling.